COVID-19 nucleic acid (RNA) POCT detection kit
(AIGS real-time fluorescent PCR method)
The kit is used to qualitatively detect the S gene and N gene of the new coronavirus (COVID-19) from the suspected cases of pneumonitis, patients with suspected clustering cases, and other kinds of pharyngeal swabs and sputum samples from patients undergoing diagnosis or differential diagnosis of new coronavirus infection. The samples could be the throat swab, sputum, alveolar lavage fluid or stool.
Innovation advantages:
☆ SAFE: The sealed kits to prevent the detection of pathogen leakage, reduce contact with infectious samples, and protect medical personnel
☆ SIMPLE: Manual sample operation in 2 min, training to the medical staff just in 10 min
☆ CONVENIENT: No PCR laboratory is required, no contamination
☆ HIGH SENSITIVITY: Critical state multiphase microfluidic technology is used to effectively improve the efficiency of nucleic acid extraction, and the sensitivity is high up to 50 virus copies.
This kit needs to be used with the AIGS Automatic Integrated Gene Detection System produced by Hangzhou Lifereal Biotechnology Co, Ltd. The system uses real-time PCR detection technology, which integrates the automatic sample nucleic acid extraction/purification, nucleic acid amplification, fluorescence detection, and result analysis. The system uses a disposable cartridge containing nucleic acid extraction/ purification and PCR amplification detection reagents for fully automated detection from sample to result.
At present, the Automatic Nucleic Acids Detection System and supporting detection kits are used in CDCs and some clinical units in China. More than 30 systems are installed in hospitals and clinical units; LifeReal supplies around 5000 COVID-19 tests per day.
Validated Clinical data by Chinese authoritative institute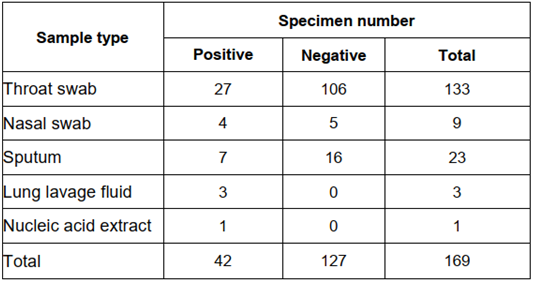 The test results of the Instrument's verification kit are in complete agreement with confirmed and excluded results from the clinical diagnosis.
The final result is 100% sensitivity, 100% specificity, and 100% compliance.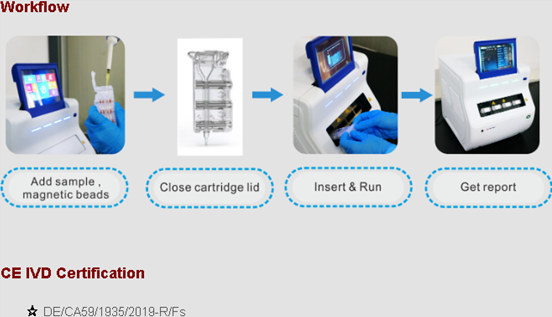 Applicable instruments
☆ AIGS Automatic Integrated Gene Detection System produced by Hangzhou
☆ Lifereal Biotechnology Co., Ltd.
☆ AIGS instrument obtained the CE IVD certification (German DIMDIV Registration No. DE/CA59/1935/2019-R/Fs)