TAMAR – Laboratory Supplies Ltd.
Year of establishment : 1972
Location : Abu-Gosh (near Jerusalem), ISRAEL
Founder: Mr. Yitzhak Hirshberg
co-CEO and Marketing Manager: Mr. Alon Hirshberg
co-CEO and CFO: Mr. Ariel Hirshberg
Company activities
Exclusive representation and marketing of products of various firms in the fields of Molecular Biology, Protein research, Biochemistry, Immunology, Physiology and their Clinical Applications.
Fields of activity
Importing and marketing of molecular biology and life science related products. Membranes for transfer of proteins and nucleic acids; blotting systems; a variety of electrophoresis units & power supplies; thermocyclers, Real-Time Q-PCR systems, siRNA, miRNA, shRNA, RNAi; spectrophotometers; cameras; electrophoresis gel documentation & analysis systems including unique software for molecular biologists; UV Transilluminators; autoradiography films & cassettes; pH & conductivity meters; plasticware – a rich variety of tubes PCR & Q-PCR products; kits for molecular biology; biochemicals; reagents & adjuvants. Specializing in filtration units, membranes and papers.
TAMAR's strengths
One of the leading companies in the field of marketing molecular biology and protein research products.
A highly service/support oriented company, offering the market a comprehensive range of quality products, from well known manufacturers at fair prices.

Professional staff visits customers on regular basis.

Long-lasting relationship with customers.

Marketing approach geared towards understanding and responding to customers' needs & demands. Well known in the market for high credibility.
TAMAR's main line of products
Thermocyclers and Real-time DNA Amplification System

Power Supplies for Electrophoresis

Electrophoresis Units

Spectrophotometers 

UV Tables 

Gel Dryers

Semi-Dry Electroblotters

pH and conductivity Meters

Autoradiography Cassettes, Screens & Films

PCR & qPCR reagents and plastic consumables

siRNA, miRNA, shRNA, and RNAi products

Ultra Pure Reagents for Molecular Biology

DNA & RNA Purification Kits

Adjuvants and Antibodies

Filtration & Separation : Membrane Filters; Filtration Equipment

Filter Papers

Products for Nucleic Acids & Protein Research

Laboratory & Scientific Safety Blood Collection Systems

Plasticware: Tips, Test & Centrifuge Tubes; Clinical Products

Disposable Laboratory & Hospital Supplies

Other General Laboratory Equipment & Supplies
TAMAR's Main Customers
Universities and research institutes, hospital laboratories, pharmaceutical, Biotechnological, food & beverage Industries, chemical and petro-chemical industries, others.
Click here to download our ISO 9001 certificate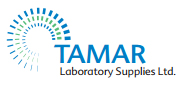 Contact Information | Tel. 972-2-5336070 | Fax 972-2-5799777 | P.O.B 40275 Mevaseret Zion 9140102, Israel | Email mail@tamar.co.il