The miniPERM® is an easy-to-handle bioreactor which was developed for the cultivation of eukaryotic cells such as mammal cells, insect cells and plant cells in high density and therefore for biomass production and for the production of cell products. The sub-division of the bioreactor into production and nutrient modules and the rotating cultivation allow for the production of highly concentrated cell products in small volumes. Therefore, depending on the cell line, cell densities of more than 107 cells/ml and product concentrations of several mg/ml can be achieved. This means that the miniPERM® bioreactor is a cost-effective and time-saving alternative to conventional tissue and roller bottles and to fermentation systems.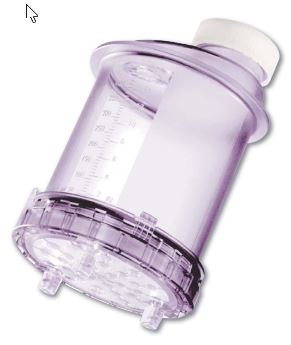 The miniPERM® bioreactor is a membrane-based two-compartment system.
A dialysis membrane subdivides the culturing chamber of the miniPERM® bioreactor into a production module (optionally 35 or 50 ml cell culture volume) and nutrient module (400 ml medium volume).
The small pore size of the dialysis membrane (MWCO 12.5 kD) prevents both the cells and released cell products from passing through the membrane. These are accumulated to high cell densities and product concentrations in the production module.
Simultaneously, the metabolites released from the cells diffuse through the dialysis membrane from the production module into the nutrient module to be diluted or neutraized in the medium.
The outer side of the production module consists of a thin O2– and C02– permeable silicone membrane for optimal gas exchange.