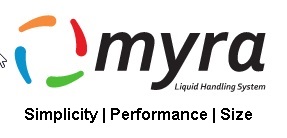 Open your eyes to new possibilities.
The world's first liquid handling system that can see.


Simplicity
So effortless you won't even notice it.
A perfectly seamless workflow between the Myra liquid handling system and Mic cycler for qPCR. Run Myra and Mic instruments from the one user interface. No exporting or importing of sample names required. Just setup, run, and analyse all in one location.
Simplified solutions for standard laboratory processes including qPCR, NGS library quantification*, and more*, all available at the click of a button.
Setup experiments for multiple Mic cyclers using one Myra liquid handling system and analyse together in one file using the Project software feature.
Calibrate Myra at the click of a button. No more sticking your head under the hood and eye balling the positions. Myra does it all for you.
Performance
A robot with a vision to perfection.
Best in class accuracy and precision of less than 10% for 1uL pipetting volumes.
High precision pipette tip positioning for small aperture tubes such as 384 well plates.
Pressure based liquid level sensing that can monitor the aspirate and dispense process for errors.
The first liquid handling system with an integrated camera and state of the art algorithms to enable Myra to see what it needs to do. Myra automates and simplifies pipette calibration and monitors for user errors in deck layout such as missing tubes.
An interchangeable pipette head gives you more flexibility with your workflow. Each pipette head contains its own calibration data removing the need to re-calibrate on each exchange.
Multi-dispense pipetting with greater accuracy to reduce time and save on pipette tips.
Using 384 well pipette tips means you swap out tips less often.
Size
A dynamic design with style and function.
At less than 10 kg and a footprint of less than 1700 cm2, Myra is half the size of other in class liquid handling systems. A closed pipette tip waste container minimises the footprint area and reduces contamination risk. UV LED lights and a compact HEPA filter reduce the chances of qPCR contamination. The compact design of both parts reduces size and weight of the Myra unit.
---
An intelligent choice for all your automated pipetting.
---
Physical
| | |
| --- | --- |
| Height | 310 mm (610 mm lid open) |
| Width | 350 mm |
| Length | 460 mm |
| Weight | 9kg |
---
Performance
| | |
| --- | --- |
| Position control | Closed loop, 100 μm resolution |
| Calibration | High precision camera |
---
Pipette
Pipetting volume range
1 – 50 μL
Liquid level detection
Pressure sensing
Tips per rack
384
Dispense modes
Single and multi
Precision
1 μL: < 10% CV
2 – 50μL: < 1% CV
Accuracy
1 μL: < 10%
2 – 50μL: < 1%
---
Contamination Control
| | |
| --- | --- |
| Tip disposal type | Internal enclosed waste container |
| HEPA filter | 99.98% at 0.3 μm |
| UV lamp | High intensity 70 mW 280 nm UV LED |
---
Communication
Type
USB 2.0
PC requirements
Intel Core i3 or equivalent, 4 GB RAM,
5 GB hard disk, 1366 x 768 display
---
Operating Environment
| | |
| --- | --- |
| Temperature range | 18 – 30°C |
| Humidity | 30 – 80% |

Myra is developed and manufactured by Bio Molecular Systems (BMS), the original team behind Rotor-Gene 6000™, X-Tractor Gene™ and CAS-1200™.
At BMS, we're committed in helping you further with your research in the life sciences. Founded by leading innovators of the former Corbett Life Sciences Company, we draw on decades of expertise when designing, manufacturing and distributing our laboratory instruments of unparalleled accuracy and functionality.
With two state-of-the-art R&D and manufacturing facilities located near Brisbane and Sydney, we're able to optimise quality and ensure rapid product development.
MYRA Software Tutorials: