Mycoplasma contamination represents a significant problem to the culture of mammalian cells used for research. Mycoplasmas can cause disastrous effects on eukaryotic cells as they can alter every cellular parameter leading to unreliable experimental results and potentially unsafe biological products. Mycoplasmas cannot be detected by visual inspection using a normal light microscope and thus, can remain unnoticed in the cell cultures for long periods.
Mycoplasma Detection & Elimination – By VAZYME
Features
* Cell culture supernatant can be used directly for detection.
* Results are obtained after incubation at 60℃ for 1 hr and can be determined by visual observation.
* Accuracy is higher than PCR method, and comparable to qPCR method.
* Suitable for detection of all kinds of mycoplasma that are commonly found in cell culture.
Validated Cell Lines
Validated cells and media serum include (but are not limited to):
* Suspension cells: CHO, NS0, 293F, mouse hybridoma, Sf9, BHK21, etc.;
* Adherent cells: Vero, MDCK, SP2/0, 293T, HepG2, HeLa, A549, MB-MDA231, L929, MEF, etc.;
* Medium: CD FortiCHO, CDM4, Expi 293 Medium, CD Hybridoma, Grace, DMEM, 1640, F12, etc.;
* Serum: fetal calf / calf serum; horse serum; Gibco KSR serum replacement, etc.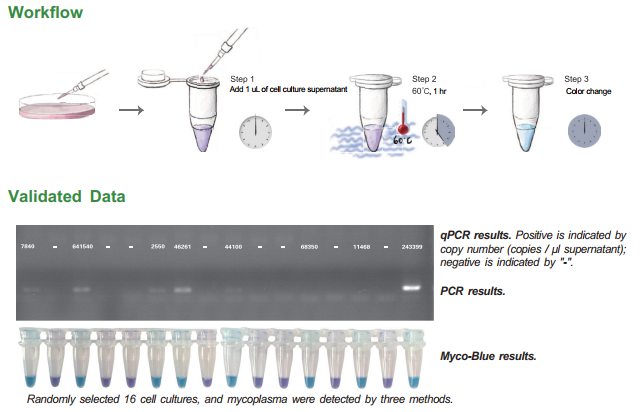 Mycoplasma Detection & Elimination – By InvivoGen
Mycoplasma contamination is a major problem in cell culture that can cause unwanted effects leading to unreliable experimental results. Due to their small size, mycoplasmas are not detectable by visual inspection and thus, the only way to confirm mycoplasma contamination is by routine testing using specifically designed methods.
Depending on your needs, InvivoGen offers:
MycoStrip™ is a simple and rapid test for the detection of mycoplasma contamination in cell cultures. It is based on isothermal PCR and the results are clearly visualized on a lateral flow detection strip. It is ideal for immediate testing (e.g. upon reception of a new cell line) allowing you to swiftly combat contamination with anti-microbial agents such as Plasmocin™ or Plasmocure™.
PlasmoTest™ is the first cell-based assay for the visual and colorimetric detection of mycoplasma contamination in cell cultures. It is ideal for routine cell culture testing as it requires minimal hands-on time, provides clear results, and is able to detect the presence of both mycoplasma and bacteria.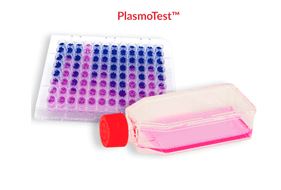 Mycoplasma Elimination
Mycoplasma contamination can be efficiently and rapidly eliminated with the Mycoplasma removal agents, Plasmocin™ orPlasmocure™. They combine two antibiotics that act through different mechanisms and allow mycoplasma eradication in only 2 weeks.
More info on Mycoplasma eradication