Mycoplasma contamination represents a significant problem to the culture of mammalian cells used for research. Mycoplasmas can cause disastrous effects on eukaryotic cells as they can alter every cellular parameter leading to unreliable experimental results and potentially unsafe biological products. Mycoplasmas cannot be detected by visual inspection using a normal light microscope and thus, can remain unnoticed in the cell cultures for long periods.
Mycoplasma Detection & Elimination – By InvivoGen
Mycoplasma contamination is a major problem in cell culture that can cause unwanted effects leading to unreliable experimental results. Due to their small size, mycoplasmas are not detectable by visual inspection and thus, the only way to confirm mycoplasma contamination is by routine testing using specifically designed methods.
Depending on your needs, InvivoGen offers:
MycoStrip™ is a simple and rapid test for the detection of mycoplasma contamination in cell cultures. It is based on isothermal PCR and the results are clearly visualized on a lateral flow detection strip. It is ideal for immediate testing (e.g. upon reception of a new cell line) allowing you to swiftly combat contamination with anti-microbial agents such as Plasmocin™ or Plasmocure™.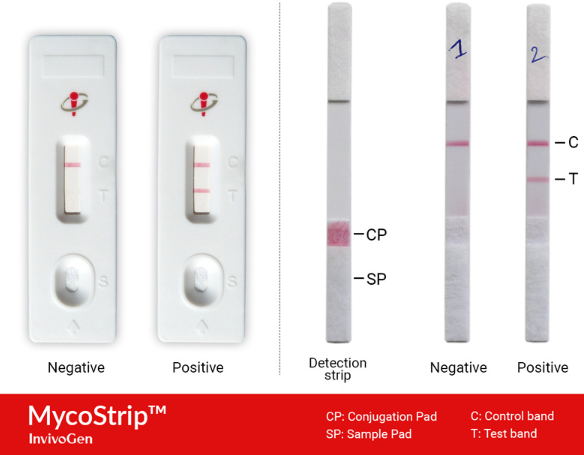 Assay Principle
Detection of cell culture contaminating mycoplasma by MycoStrip™ is based on isothermal PCR. Simply prepare your sample and add our proprietary Reaction Mix to target and amplify the 16S rRNA gene for the most commonly found mycoplasma species in cell culture. Results are clearly visualized on an immunochromatographic strip within 5 minutes.
Key features of MycoStrip™
➔ Simple
Easy to perform, and unlike most other mycoplasma detection assays, no special lab equipment is required.
➔ Rapid
Performed in 1 hour, with less than 15 minutes of hands-on time.
➔ Clear
Fast and easy-to-interpret results that appear within 2-5 minutes, as 1 or 2 bands on the strip.
One band – negative for mycoplasma
Two bands – positive for mycoplasma
➔ Specific
MycoStrip™ has been specifically designed to detect the Mycoplasma and Acholeplasma species that most commonly contaminate cell culture. These include the six species that account for 95% of all contaminations: M. orale, M. hyorhinis, M. arginini, M. fermentans, M. hominis, and A. laidlawii. Importantly, because the MycoStrip™ reaction mix detects unique regions of DNA there is no cross‑reactivity with other bacterial, fungal or mammalian DNA.
➔ Sensitive
MycoStrip™ is able to detect as low as 10-102 CFU/ml and thus, can be used to detect mycoplasma contamination before it significantly affects experimental results, which typically occurs at ~107 CFU/ml.
➔ Also available without cassettes
The larger unit size (100 strips) contains no cassette, offering a more economical and eco-friendly version of MyscoStrip™
| | |
| --- | --- |
| MyscoStrip™ 10 tests | rep-mys-10 |
| MyscoStrip™ 20 tests | rep-mys-20 |
| MyscoStrip™ 50 tests | rep-mys-50 |
| MyscoStrip™ 100 tests (without cassette) | rep-mys-100 |
PlasmoTest™ is the first cell-based assay for the visual and colorimetric detection of mycoplasma contamination in cell cultures. It is ideal for routine cell culture testing as it requires minimal hands-on time, provides clear results, and is able to detect the presence of both mycoplasma and bacteria.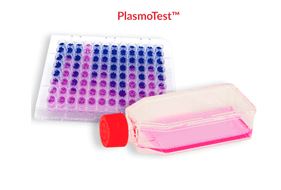 Mycoplasma Elimination
Mycoplasma contamination can be efficiently and rapidly eliminated with the Mycoplasma removal agents, Plasmocin™ orPlasmocure™. They combine two antibiotics that act through different mechanisms and allow mycoplasma eradication in only 2 weeks.
More info on Mycoplasma eradication