The new generation of cell culture flasks – with the advanced capping system
All flask sizes from 25 to 175 cm² are available in the new product design.
Product characteristics
The improved anti-drip edge and the modified canted neck provide maximum control when replacing nutrient depleted media.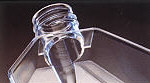 The specially shaped pouring channel allows easy access to the monolayer/suspension culture and facilitates the dosage of tissue culture media and cell suspensions.
An anti-tip skirt under the canted neck improves stacking stability and prevents media from running into the neck of the flask minimising potential contamination.