The Logix Smart™ Coronavirus Disease 2019 (COVID-19) Test kit is an in vitro diagnostic test that uses patented CoPrimer™ technology for the qualitative detection of the RNA from SARS-CoV-2 coronavirus (COVID-19), (RdRp is the viral gene which detected).
No mutations observed under Co-diagnostics Logix Smart™ COVID-19 CoPrimers™ probes/primers which are 2.5 MILLION times more effective in reducing amplification errors. As for the IPC – the gene detected is human RNaseP also using CoPrimers™ probes/primers.
The test operates using a single step real-time reverse transcriptase polymerase chain reaction (RT-PCR) process in lower respiratory tract fluids (e.g. bronchoalveolar lavage, sputum, tracheal aspirate), and upper respiratory tract fluids (e.g. nasopharyngeal and oropharyngeal swabs) from patients who meet the clinical criteria (e.g. signs and symptoms) for coronavirus disease 2019 (COVID-19) as established by WHO (WHO, 2020) and the US CDC (CDC, 2020) (e.g. fever, cough, shortness of breath, travel history to China).
Ready-to-use Master Mix, complete with RNaseP internal positive control to verify sample quality
Positive Control (PC), to verify the performance of the master mix
Nuclease-Free Water as a negative control, to verify master mix is free from contamination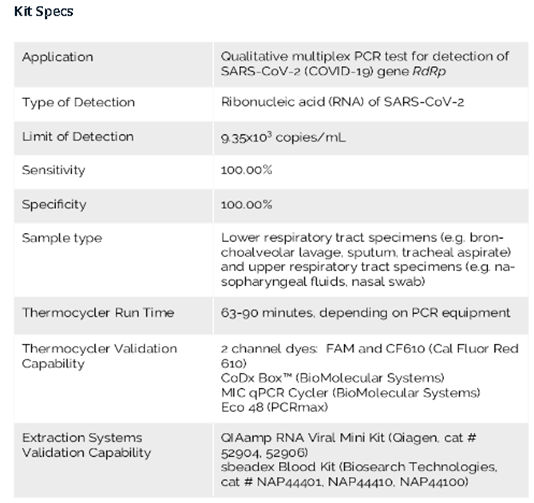 Regulatory Clearance
In February 2020, the Logix Smart COVID-19 Test kit received CE marking approval, the principle regulatory clearance allowing the test to be sold as an in vitro diagnostic ("IVD") for the diagnosis of COVID-19 in European Union states and other markets that accept a CE-IVD mark as valid regulatory approval.
On April 3 2020 the Logix Smart COVID-19 Test kit obtained Emergency Use Authorization (EUA) by the Food and Drug Administration (FDA) to be used for the diagnosis of SARS-CoV-2.
Protocol
Logix Smart™ Coronavirus Disease 2019 (COVID-19),(COVID-K-001) Instructions for Use